Contabo was founded by Michael Herpich and Michael Bolke in 2003. They started with a single server at the beginning. And after nearly 19 years of business, 130,000+ customers worldwide and they have more than 275,000+ servers Running with 4 large data centers in Germany and 3 new Datacenter in the USA (US East (New York City), US West (Seattle), and US Central (St. Louis)), 1 in Singapore and the newest data center in Portsmouth, England (United Kingdom). 
Now they have 6 Regions and 9 Locations.
Hot news: Contabo has the newest data center in the United Kingdom and new NVMe storage in all locations. You can now buy it now!
Contabo is based on key principles such as attractive user service packages, instant services, and top customer support.
In this article, I will introduce you to how to get a discount at Contabo. Why you should buy VPS at Contabo and you will be happy to use VPS service here.
Contabo VPS Discount, Review 2022
Contabo has no coupons but only special discounts, we always update those discounts continuously at TopHostCoupon. You can get a discount on your server purchase by doing the following.
How to buy Contabo VPS and get a discount?
Choose the VPS package you want to buy, If you need to store a lot of data, choose Storage VPS packages with a large HDD capacity. If you need high-performance to choose High-performance VPS plans with 100% SSD or Fast NVMe… ( FAST NVMe is now available in all locations and has a big promotion!)
Contabo Summer Sale. No Setup Fee for Cloud VPS, Cloud VDS, Storage VPS, and AMD Epyc 32 Cores Dedicated Servers.
Click on the BUY VPS button below to buy and get a discount at Contabo.com
| | | | | |
| --- | --- | --- | --- | --- |
| PACKAGE | RAM / CPU | DISK STORAGE | PRICE | BUY VPS |
| VPS 300 | 4 GB Ram / 2 cores | 300 GB HDD | $5.99/mo | |
| VPS 700 | 10 GB Ram / 4 cores | 700 GB HDD | $10.99/mo | |
| VPS 1400 | 20GB Ram / 6 cores | 1400 GB HDD | $16.99/mo | |
| VPS S | 8GB Ram / 4 cores | 200 GB SSD or NVMe | $6.99/mo | |
| VPS M | 16GB Ram / 6 cores | 400 GB SSD or NVMe | $11.99/mo | |
| VPS L | 30GB Ram / 8 cores | 800 GB SSD or NVMe | $19.99/mo | |
| VPS XL | 60GB Ram / 10 cores | 1600 GB SSD or NVMe | $34.99/mo | |
(*) Buy 12 months for getting more than 1 month free, the setup fee is $0, The US and Singapore locations only have VPS SSD.
The new US location of Contabo provides space for 1.500 servers. You can buy VPS High-Performance Series and 10-Core Dedicated Server there.
Contabo offers VPS configurations from 4 to 10 CPUs with a huge amount of RAM… The smallest VPS M with 8GB of RAM and the largest package of up to 60GB of RAM will satisfy all the fastidious people.
It bases on KVM virtualization so that customers can enjoy full root and a web interface for easy system management, restart, reinstallation of the operating system, and DNS management.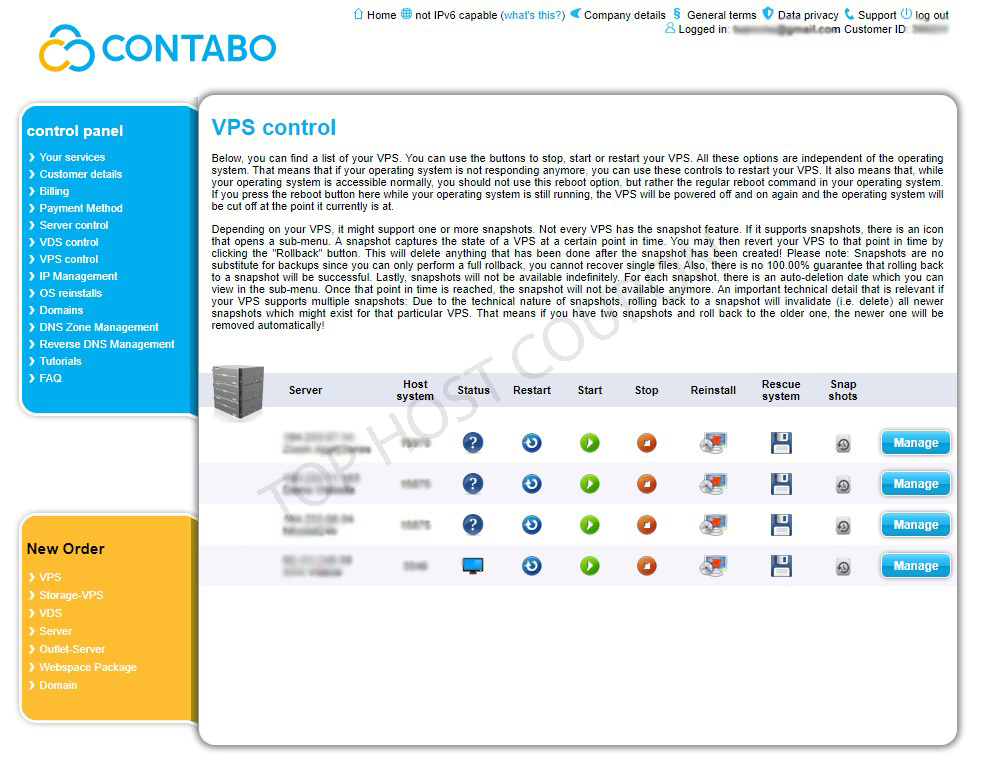 They have port rates of 100Mbit / s or 1Gbit / s depending on the package intended for all customers. In the operating system for Contabo VPS, you can manually install Linux or Windows Servers. You can install custom Webmin, cPanel / WHM, or Plesk to administrate users as well as VPS easier.
All service packs come with daily virus scans, DDOS protection so it can help keep you safe from server attacks.
Contabo VPS Plans
As I said above, Contabo's VPS service is one of the great ways to save money when you want to combine the features of a dedicated server and shared hosting. Especially Contabo has more packages with solid-state storage SSDs or NVMe for higher performance, faster speed, and more stability.
With VPS 300 plan, you will have 4GB Ram, 300 GB space, the price is only $5.99/month, really too cheap for this plan but you should buy a VPS S plan with 100% SSD or Fast NVMe storage for the fastest speed.
If you need higher space you should choose VPS 1400 with 1400 GB space. All VPS HDD plans have SSD-boosted. When compared to other providers, with high configuration and good prices, you will be ready to buy immediately without thinking.
You should buy VPS High-Performance Series so VPS has high speed and the price of these service packages is not too high compared to VPS HDD Series.
VPS S has SSD or NVMe storage with the price of only $6.99/month, you will get 4 core CPUs, 8 GB RAM, and 200 GB SSD or 50 GB NVMe storage. You will not be able to find a better provider when comparing prices and configurations with the VPS M package.
You should choose VPS packages with SSD and NVMe for optimizing performance, speed will be a lot faster.
If you need more resources, You can choose the VPS XL package. With only $34.99/month you will have 10 cores VPS, 60GB RAM, and 1600 GB or 400 GB NVMe storage. This is a very large configuration with extremely good prices.
All customers can choose to combine an HDD with an SSD for greater storage capacity from 300 GB to 1400GB HDD storage and 200 GB to 1600 GB SSD storage. If you do not need too much storage.
Contabo Virtual Dedicated Servers Plans
A virtual dedicated server from Contabo will bring the advantages of the Dedicated server and VPS. Dedicated computing power is not shared with other customers, quick initialization. This series gives you a high-performance 100% NVMe SSD and physical CPU.
Now you can immediately start Virtual Dedicated Servers at all of Contabo's data centers in Germany and in the US.
| | | | | |
| --- | --- | --- | --- | --- |
| PACKAGE | RAM / CPU | DISK STORAGE | PRICE | BUY VDS |
| VDS S | 24GB Ram / 3 CPU | 180 GB NVMe SSD | $49.99 | |
| VDS M | 32GB Ram / 4 CPU | 240 GB NVMe SSD | $59.99 | |
| VDS L | 48 GB Ram / 6 CPU | 360 GB NVMe SSD | $89.99 | |
| VDS XL | 64 GB Ram / 8 CPU | 480 GB NVMe SSD | $119.99 | |
All CPU are physical cores ( AMD EPYC 7282 2.8GHz )
Contabo Shared Hosting
Contabo calls shared hosting packages WebSpace packages. All packages include free SSL certificates and free domain names included with each service pack, and in particular, there is no limit to the amount of traffic to your website, as well as to some other providers.
| | | | | |
| --- | --- | --- | --- | --- |
| PACKAGE | FREE DOMAIN & SQL | DISK SPACE | PRICE | BUY HOSTING |
| WebSpace M | 1 free domain/ 20 SQL | 50 GB Space | ($3.99/mo) | |
| WebSpace L | 1 free domain/ 50 SQL | 100 GB Space | ($6.99/mo) | |
| WebSpace XL | 2 free domain/ 100 SQL | 250 GB Space | ($10.99/mo) | |
| WebSpace XXL | 3 free domain/Unlimited SQL | 500 GB Space | ($12.99/mo) | |
All packages are SSD storage and unlimited bandwidth.
** Click on the VISIT CONTABO button to go to the detail page and buy hosting.
According to the table above, with M, L package you will have a free domain name. If you purchase the WebSpace XL package you will have two free domains and with the XXL package, you will have 3 free domains for only $12.99 per month.
Automated backups available
FREE cPanel and account management portal
Easy domain registration, transfers, and DNS management
Year-round phone and email support
The Contabo account management interface is easy to use, offering many useful features in a compact and efficient package. Customers can view their services, as well as contact information and billing. Contabo's customer control panel allows users to register service packs and manage their domains and DNS settings.
Contabo uses cPanel.net to manage Web Hosting. This is the easiest to use control panel in the world.
Contabo Dedicated Servers
A dedicated server gives you full control over the use and use of all the resources on the physical server. This is the best solution for websites with large hits, business systems or any solution using a server.
| | | | | | |
| --- | --- | --- | --- | --- | --- |
| SERVER | STORAGE | RAM | BANDWIDTH | PRICE | BUY SERVER |
| Quad | 800 GB | 8 GB | Unlimited | $35.99/mo | BUY QUAD |
| Core i7 | 2 x 1000 GB | 12 GB | Unlimited | $49.99/mo | BUY CORE I7 |
| 6-Core | 80 GB SSD, 2000 GB | 24 GB | Unlimited | $50.99/mo | BUY 6 CORE |
| X | 256 GB SSD, 3000 GB | 64 GB | Unlimited | $149.99/mo | BUY X |
| Dual Xeon | any combination | 128 GB ECC | Unlimited | $199.99/mo | BUY DUAL XEON |
| 10-Core | any combination | 256 GB ECC | Unlimited | $299.99/mo | BUY 10 CORE |
The Dedicated Server Quad plan only $35.99 Eur/mo. You will have Intel Quad-Core, 8 GB of RAM,2 TB GB storage (  1TB x2 HDD ), and unlimited bandwidth. This is a very cheap price to own a Dedicated server.
***Now you will get free 1 month when you buy Dedicated Server 6-core or Dedicated server 10-Core plan.
Contabo support staff can assist you 365 days a year by phone or email. However, for US customers, there are some challenges when contacting a German-based company: Contabo does not have a toll-free number or 24-hour support, which means that technicians have Available by phone from 3 am to 6 pm. EST (8 am to 11 pm in Germany).
Get support here: https://contabo.com/?show=support
If you purchasers of upgrades for emergency support, you will receive priority treatment and feedback within 60 minutes or less for up to 5 servers. Contabo says every customer is king, and upgrading emergency support will turn customers into emperors.
Contabo Includes phone and email support, 99% network uptime. If you need help, please leave a comment.