1Password is one of the most intuitive and secure password managers around. 1Password is available on PC, Mac, Android, and iOS, including features, usability, and security.
It features multiple layers of high-quality security, some of which are only available on 1Password, such as the security-focused Travel Mode.
This is one of the few software programs with military-grade encryption, and arguably the best password manager of all. Even non-techies can easily navigate the interface and all of 1Password's features.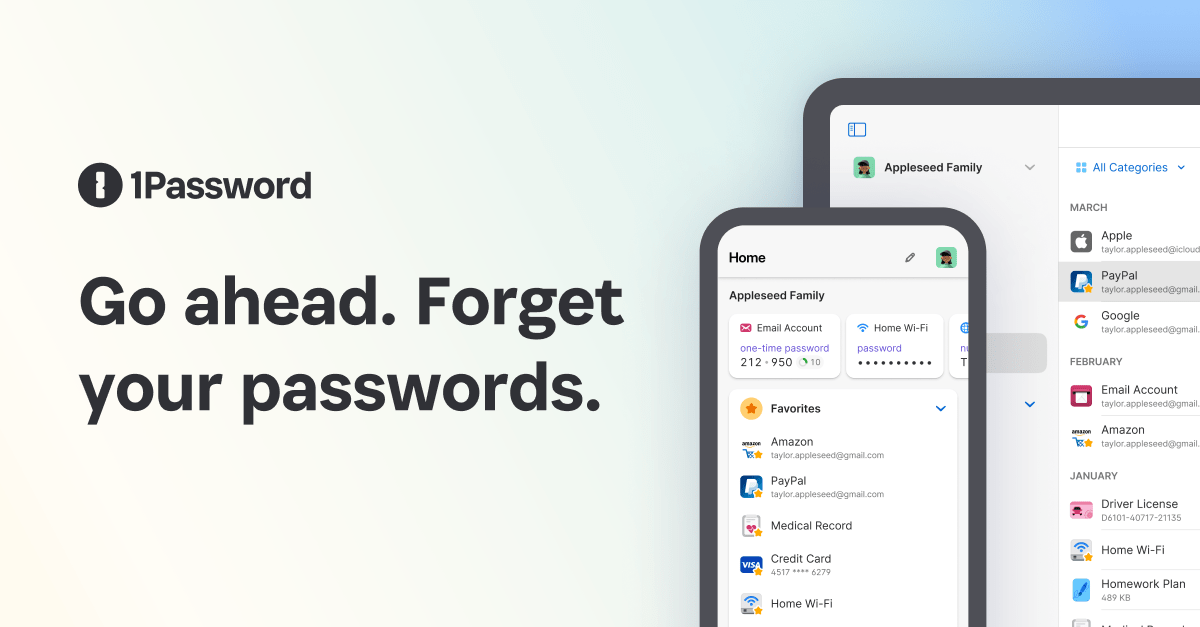 Protect your passwords with 1Password by signing up for a 1-year plan, and getting a 50% off 1Password Coupon, let's explore the amazing features of 1Password.
1Password coupons & promo code 2023
Click to the button to get the 1Password coupon
| | |
| --- | --- |
| Description | Coupon |
| Get 25% Off families at 1Password! New Customers Only! | |
| Get 25% Off Individuals at 1Password! New Customers Only! | |
| 50% off Teams Memberships at 1Password! | |
| Get 3 months free when you switch to 1Password Business or Teams, Plus Free family accounts for every member of your team! | |
| Switch to 1Password Business and Enjoy 25% off your first year! | |
| Switch to 1Password Business and Enjoy 25% off your first year! | |
| 50% Off Families for the 1st Year at 1Password | |
1Password Plans and Pricing
1Password is worth the money. All plans include 1GB of encrypted file storage, shared logins, password security tools, and travel mode protection.
While 1Password's personal and family plans are less expensive than competing brands like Dashlane, 1Password doesn't offer a free version of the app. However, 1Password offers a 14-day free trial for all plans (except Enterprise, the premium business plan).
1Password Personal – an affordable option for a single user
This is a 1Password single-user plan. 1Password Personal plans include:
Multiple operating systems are supported. Windows, Mac, Linux, ChromeOS, iOS, and Android.
1 GB of storage per person. Securely store files and images up to 1GB.
24/7 support. Email support only.
History of deleted passwords. Recover deleted passwords within 365 days.
Travel mode. Hide sensitive data stored in 1Password while traveling.
Two-factor authentication (2FA). Keep your 1Password account data even more secure.
This pack is perfect for individual users looking for a truly secure, affordable, and easy-to-use password manager.
Unlike Dashlane Premium, the Personal plan doesn't include an emergency access option. But 1Password Personal is much cheaper than basic password managers that offer fewer features, such as B. Sticky Password.
1Password Families – Best for securely sharing logins with family members
This plan includes all the features of the 1Password plan above, plus:
Cover up to 5 users. You can also add more users.
Shared repository. Easily share passwords and data with family members.
Up to 5 guest accounts. Login and password for temporary access.
Control permissions. Assign different permissions (view, edit, or manage) to your family members.
Recover account. If other users forget their master password, help them regain access to their repository.
This plan is one of the cheapest family plans of any password manager. I like the ability to add more users for a small fee, making it a cost-effective option for large families. The account recovery option is also a plus since it's not included with the 1Password Personal plan.
However, LastPass' family plan offers similar features and is slightly less expensive than 1Password Family, with up to six users.
If you want the freedom to add more users and invite visitors to temporarily view data for a small fee, 1Password Family is your best choice.
1Password Teams – Best for Small Businesses
1Password Teams has all the features mentioned earlier in the individual and family plans. The package also includes:
Admin control. Assign, manage, and view employee permissions.
Integrate with Duo. Advanced multi-factor authentication options.
Shared storage and unlimited article storage. Share logins and passwords across teams and store work-related documents.
This program is suitable for small business groups that need to securely share passwords and data. There's also a 1Password Business plan that includes 5GB of storage per person, activity reports, custom groups, and up to 20 guest accounts, and each team member gets a free 1Password Family account. VIP support is also available.
All business plans are cheap. But if you want to compare how password managers work, there are a few other options you might want to consider.
7 Key Features of the 1Password App
Create strong, unique passwords for all your online accounts
This is a very useful feature for businesses, helping them set passwords for each of their online accounts. In just a few steps, your online accounts can be well protected. Thanks to this feature, companies don't have to spend as much money and still help employees protect their documents.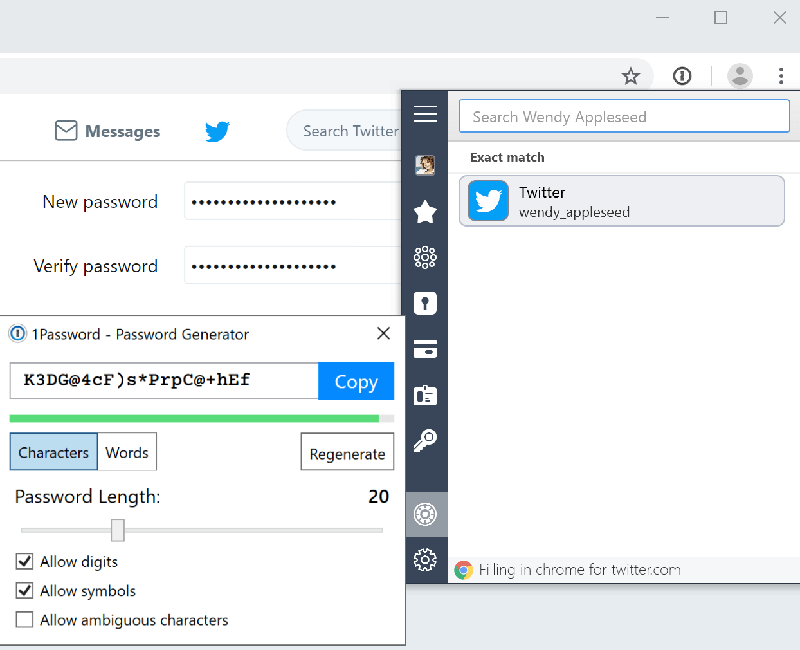 Enter usernames and passwords for websites and applications
When logging into an app on a phone or computer that has the 1Password app installed, users will be prompted for a username and password to access and authenticate with it. . All accounts you create are saved within the app. You can track each account's creation time and activity history.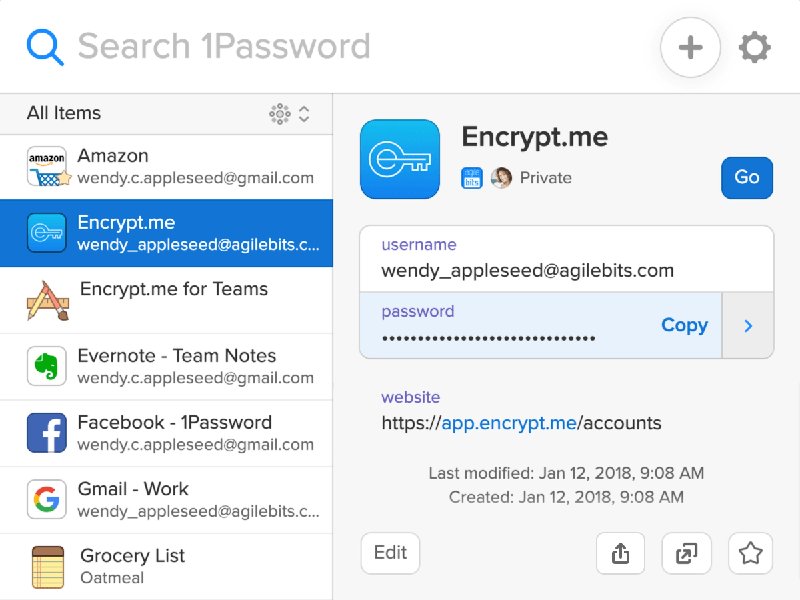 Access your information on all mobile devices and computers
Easily set mobile phone and computer passwords. Users only need to remember a username and password to unlock applications and browsers on their phones and computers, so they can rest easy.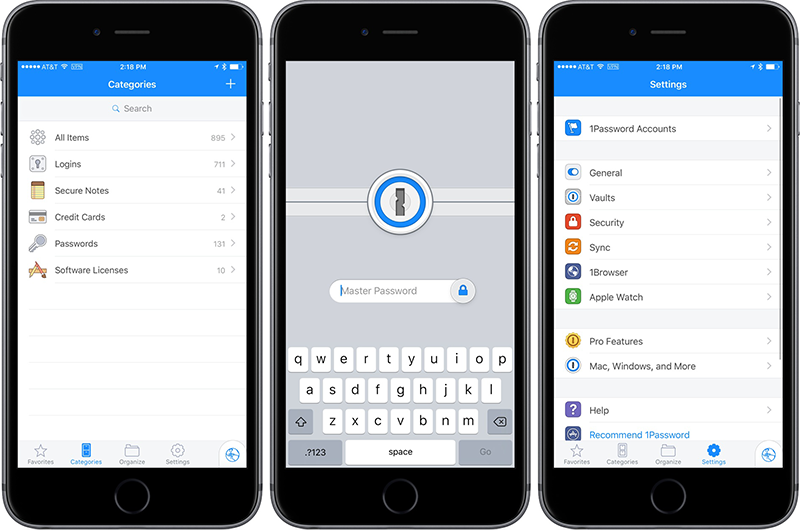 Securely share passwords with your family or work
Being able to share passwords with family members and company colleagues can save you a ton of money without shelling out for expensive apps.
With fingerprint unlocking and face recognition functions, you can unlock with just one touch
Face recognition saves your time on phones and computers with fingerprint unlocking. You don't need to re-enter your username and password every time you access applications and browsers.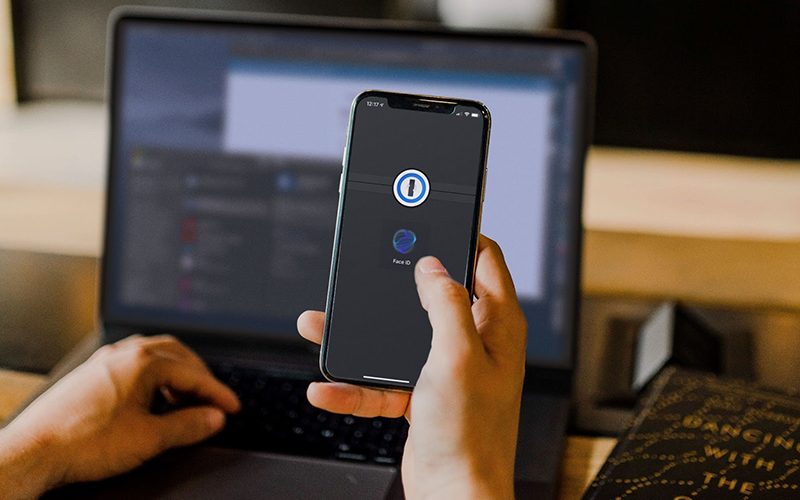 Every locked app requires a password
The 1Password app has a special feature that prompts users to re-enter their passwords for each app and browser. This feature helps increase device security and prevents accidental theft.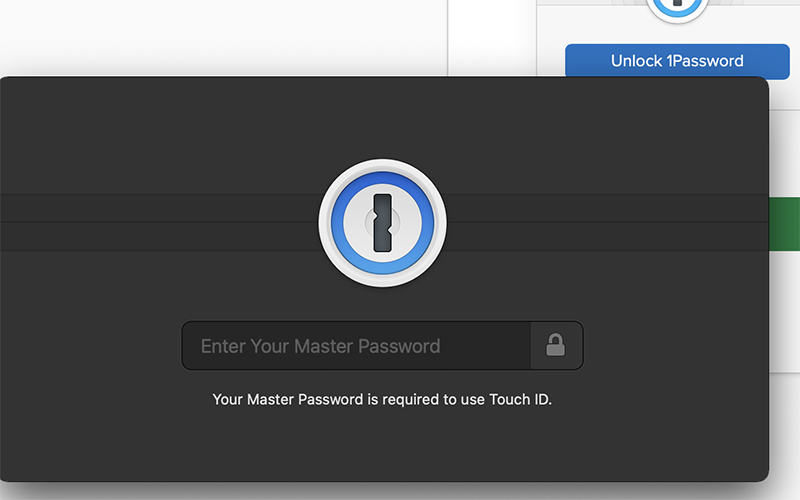 Travel mode
1Password's Travel Mode feature is great for those who need to hide sensitive information (such as B. company encryption keys and social media logins) while abroad. Holidays. Since foreign law enforcement may ask you to search your phone as proof of identity, they will sometimes ask you to open the app, so they can search your personal information.
If you have Travel Mode enabled on your 1Password web account, only the profiles you've marked Safe Travels will appear on your device. Therefore, files containing top-secret information will remain hidden until the Travel Mode feature is disabled. Simply disable travel mode to regain access to all storage.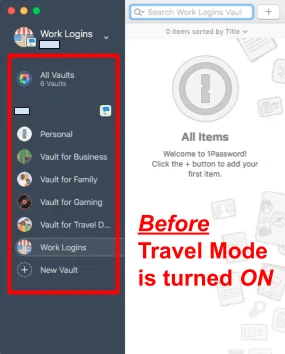 after turning on travel mode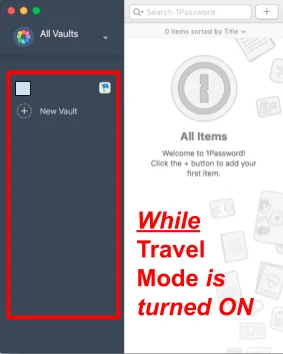 1Password does not show a status change to "Travel Mode" while the feature is on. So there's really no way for the authorities to find your hidden repositories.
Frequently Asked Questions
Is there a free version of 1Password?
1Password doesn't offer a free version, but the company offers a 14-day risk-free trial for all of its plans (except the Enterprise plan).
No credit card information is required for the free trial, and you can still create a fully functional 1Password account. You have access to all features including Watchtower, Mobile Mode and Password Vault.
What is 1Password's Journey Mode?
Travel mode allows you to temporarily hide information from all your devices. Shows only profiles you've marked safe for travel. If you disable migration mode, you will have access to all data again.
Simply log into your 1Password web account, enable Travel Mode, and any resources marked "Remove for Travel" will be temporarily removed from all applications. Your 1Password – so no one can track you. To restore your save, simply disable Travel Mode in your 1Password web account.
With this unique feature, if you need to move an unlocked device across borders, you can keep any information you don't want to share.
Which 1Password plan is best for me?
It depends on how many user accounts you need. If you just need to manage your own passwords, the basic 1Password plan might be the best option for you. However, if you have a family, 1Password Families is a great option. The plan comes with 5 users, with the ability to add more users for a small fee. Even if family members forget their 1Password master password, you can restore their access.
However, if you're considering 1Password for your business, the business plan gives you extra controls to keep your employees safe at work — including the ability to control passwords and login permissions. There is also a remote migration mode feature for employees with sensitive data.
If I forget my 1Password master password, can I recover my account?
The company does not store your master password or keys – they cannot be recovered. These logins are known only to you and should be stored securely. All your sensitive credentials, such as master passwords and keys, are stored in a downloadable PDF emergency kit.
However, if you're on a family, team, or business plan and a member's account is locked, an admin user can restore that member's access.
Conclude
1Password is an optimized, security-focused password manager that reliably protects personal data and increases security. In particular, 1Password's Travel Mode hides some of your files on your device, which is a really cool feature if you travel a lot or on business.
Watchtower is another great feature that makes it easy to see if your data has been compromised.
You might be a little disappointed to find out that 1Password doesn't offer a free version of its program – however, the company offers all customers a 14-day free trial of all plans, which you should buy right away and don't forget to use our 1Password coupon.