Hostinger is one of the cheapest Share Hosting providers on the market today.
In 2007, they started with 000webhost.com, a free web hosting service with no ads. Then, in 2011, the web hosting brand Hostinger was born. Until 2012, the company expanded internationally with a new merger in Cyprus.
And in May 2014, Hostinger exceeded the number of users by more than ten million. By January 2017, the number of users had grown to 29 million. This is an amazing growth rate, and until today, Hostinger has been one of the reputable hosting and VPS service providers that many people trust to use.
Hostinger coupon, promo codes 2023
1, Hostinger shared hosting coupon
Hostinger is a web hosting service designed to suit a wide range of needs from beginners to professionals. Hostinger has its own unique cloud infrastructure, so they can offer these services at an affordable price starting from $ 0.99 / month.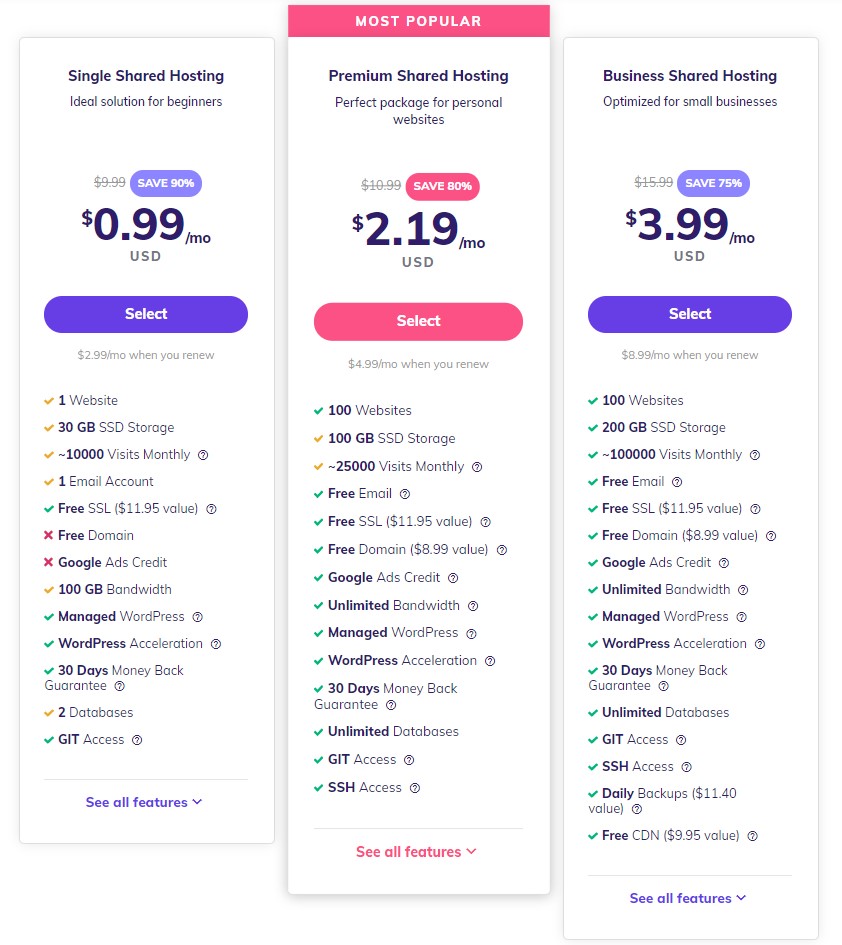 Hostinger offers 3 Web Hosting packages for you to choose from:
Personal Web Hosting: Single package, designed for 1 small website.
Premium Web Hosting: Intermediate package for many websites.
Business Web Hosting: The ultimate package suitable for many high-traffic websites.
Click the button below to get Hostinger hosting coupon:
| | |
| --- | --- |
| Detail | Coupon |
| 90% Off Single shared hosting, just $0.99/mo | |
| Save 82% on Premium shared hosting | |
| 78% Off on Business shared hosting plan | |
You will get a free domain name on the Premium or Business shared hosting package. Free SSL on the Business package.
2, Hostinger Cloud hosting coupon
If your website has a lot of traffic or you are a new startup. You should choose the cloud hosting service at Hostinger right away.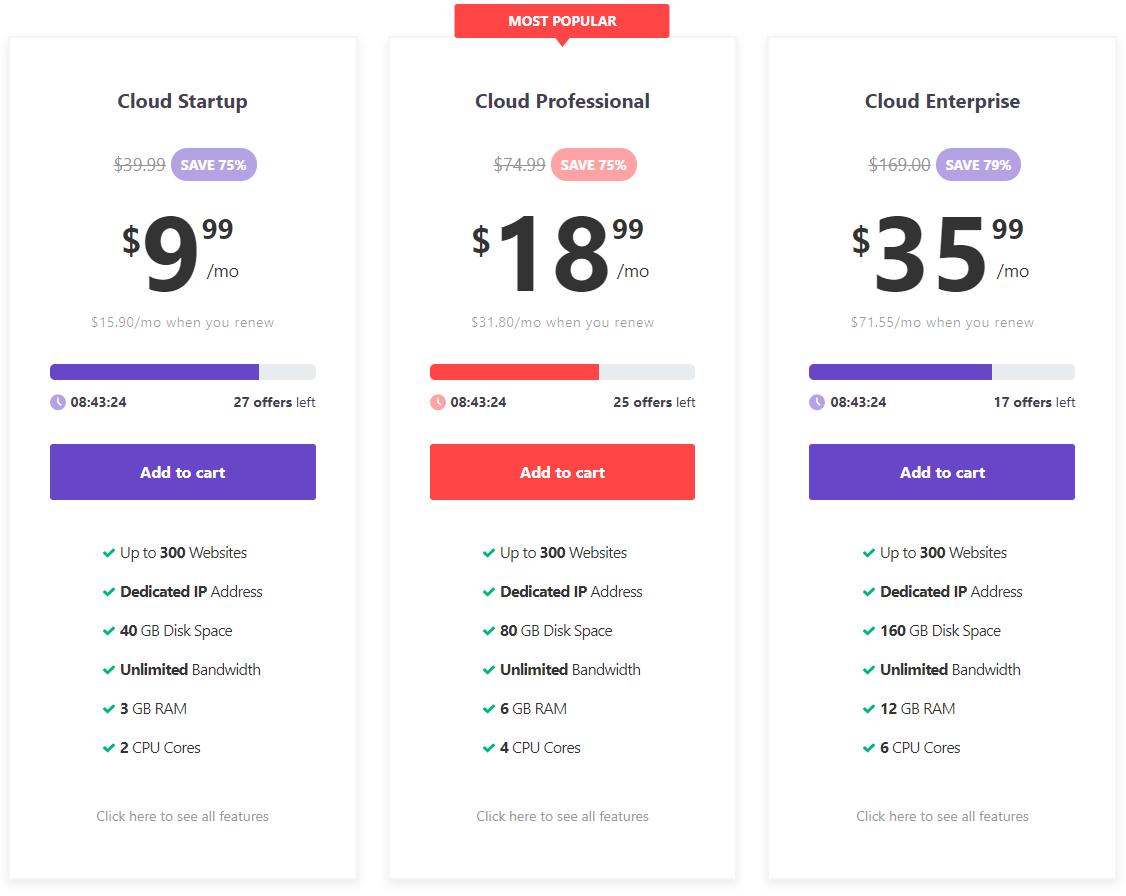 | | |
| --- | --- |
| Detail | Coupon |
| Save 75% on Cloud Startup plan | |
| 75% Off on Cloud Professional plan | |
| Save 79% on Cloud Enterprise plan | |
Limited time offer: Get .online domain for FREE on any plans. All plans are free Dedicated IP.
3, Hostinger VPS coupon
If you are in need of high-quality and cheap VPS service, you can refer right here.
CPU/RAM
STORAGE
BANDWIDTH
PRICE
BUY NOW
1 vCPU/1 GB
20 GB
1000 GB
$ 3.95/mo (

$9.95

)
GET COUPON
2 vCPU/2 GB
40 GB
2000 GB
$ 8.85/mo (

$19.95

)
GET COUPON
3 vCPU/3 GB
60 GB
3000 GB
$ 12.95/mo (

$39.95

)
GET COUPON
4 vCPU/4 GB
80 GB
4000 GB
$ 15.95/mo (

$49.95

)
GET COUPON
6 vCPU/6 GB
120 GB
6000 GB
$ 23.95/mo (

$79.95

)
GET COUPON
8 vCPU/8 GB
160 GB
8000 GB
$ 29.95/mo (

$129.95

)
GET COUPON
Hostinger's advantages
So is Hostinger good? Why should you buy hosting, VPS from Hostinger?
1. Good Uptime specifications
Uptime is the most important parameter you should consider when deciding to sign up for hosting. Hostinger's minimum uptime commitment is 99.9%. A number isn't too high, but not bad
2. Affordable price
Hostinger's cheapest hosting package is only under 99 cents/month (for a minimum of 48 months for registration). If registered annually, you have to pay about 2 USD / month. Configurable enough for a good site to run.
If you want to upgrade you can choose a Premium plan or Business plan that can host an unlimited number of websites.
3. Refund in 30 days
Within 30 days if you are not satisfied with the quality of experience with Hostinger, you can create a request for a refund.
4. Free domain name and Website Builder site builder
When using services at Hostinger you will be using the website builder for free. This is a tool for fast and beautiful website design. There are dozens of pre-built interface templates, you can just choose and edit accordingly. In addition, when using Premium or Business plan, you will also get a free domain name.
5. Control Panel is easy to use
Hostinger designed its own control panel with a modern and easy-to-use interface. All the most essential tools are displayed in a single interface. This Control Panel is perfectly suitable for those who are new to the website as well as pro.
You can pay with Paypal or cards like Visa, Master, Amex, or Disco. If you have any problems with payment, you can contact Hostinger support for assistance.
Frequently Asked Questions about Hostinger
Q1, What is Hostinger Uptime? Does Hostinger commit uptime for hosting and VPS services?
Hostinger guarantees a minimum uptime of 99.9%. They also have a 30-day money-back guarantee. If you are not satisfied with the quality of the service, it is possible to appeal to get your money back.
Q2, Does Hostinger support website transfer for customers?
Yes. If you buy hosting at Hostinger and want to move your website from 1 provider here, Hostinger will assist you.
Do they charge a fee? The answer is no. Some providers may charge this fee.
Q3, Can we using Hostinger's Hosting service backup data?
Yes. With the most basic package, you get a weekly backup of data to restore in case of website failure. If you want to back up your data on a daily basis, you must upgrade to the Business plan.
Q4, Does Hostinger offer free domain names?
Yes, they have. If you sign up for a premium hosting package (cost about $2.19 / month) or more, you will be given a free domain name for 1 year. If you do not want to buy a domain name at Hostinger, you can absolutely use other services. This issue they do not force.
Q5, Does Hostinger offer a free SSL certificate?
All 3 hosting packages are free SSL with a value of $ 11.95 for all customers.
Hopefully, the shared article about Hostinger will help many of you who are looking for the best and most economical hosting service when using the Hostinger coupon at TopHostCoupon.com