SEO PowerSuite is an all-in-one SEO software that helps businesses improve search engine rankings, generate more traffic, and save time.
What is SEO PowerSuite?
SEO PowerSuite is a set of 4 SEO tools, each of which solves a particular aspect of SEO. This package is all you need if you want to rank top on search engine results, increase traffic, and boost sales.
4 main tools of SEO PowerSuite include:
Rank Tracker
WebSite Auditor
SEO SpyGlass
Link Assistant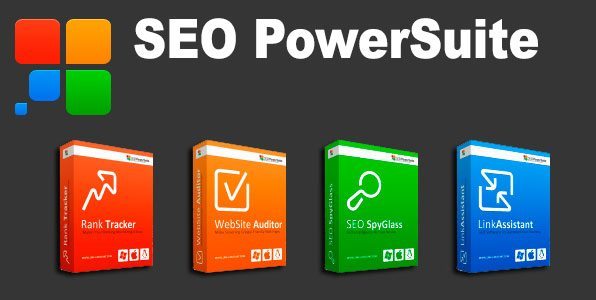 What does Seo Power Suite do?
SEO PowerSuite can automatically analyze a lot of search engines to rank websites without any user intervention and allows comparing up to 10 competitors. The software supports unlimited keywords, images/videos, specific geographic rankings, and many other search engine rankings.
The keyword research feature includes 19 different suggestion tools that help you find profitable keywords to be able to generate more traffic. Integrated PPC, bounce rates and traffic analysis features help users focus on SEO efforts and make the most of active keywords.
Onpage SEO, content optimization, and website auditing help identify SEO vulnerabilities and enable creating relevant and search engine friendly content. Onpage SEO includes identifying broken links and code errors, duplicate links and content, the ability to crawl and index the page and optimize content.
An in-depth analysis of competitors helps businesses build better content and SEO strategies and SEO links to discover what is working for them. SEO PowerSuite also provides white-label reports in HTML / PDF format, which can be fully customized, emailed, printed, or simply uploaded to the web.
SEO PowerSuite feature
Website analysis
Track keyword rankings
Compare up to 10 opponents
Analyze photos, videos
Track geographic ratings
Progress chart
Backlink analysis
Check backlink with Panda / Penguin algorithm
Data management links
19 keyword suggestion tools
Keyword quality factor
PPC analysis
Bounce rate and TKW traffic
SEO On-page
Content optimization and site audit
Identify broken links and error codes
Page indexing
Content optimization
Competitive analysis
SEO report
SEO PowerSuite price list
SEO PowerSuite offers the following business pricing packages:


Free package:
Do not allow saving projects with history
Website and keyword unlimited
SEO report
Advanced safety features
Integrate with external data sources
Windows, Mac OS X, Linux
Professional package – $ 299 / month
Save the project with history
Cloud project hosting
A task scheduled on autopilot
Copy the clipboard
Business plan – $ 699 / month
Features of Professional Pack, plus:
Data export
Export the report in PDF format
Research, audit websites, optimize content, backlinks and ranking reports for customers
Seo Power Suite coupon & link to buy
You can click on the button below to buy Seo Power Suite
| | | |
| --- | --- | --- |
| Software name | Price | Link |
| SEO PowerSuite Professional – Yearly | 299.00 USD | |
| SEO PowerSuite Enterprise – Yearly | 699.00 USD | |
| Rank Tracker Professional – Yearly | 124.00 USD | |
| WebSite Auditor Professional – Yearly | 124.00 USD | |
| SEO SpyGlass Professional – Yearly | 124.00 USD | |
| LinkAssistant Professional – Yearly | 124.00 USD | |
| Rank Tracker Enterprise – Yearly | 299.00 USD | |
| WebSite Auditor Enterprise – Yearly | 299.00 USD | |
| SEO SpyGlass Enterprise – Yearly | 299.00 USD | |
| LinkAssistant Enterprise – Yearly | 299.00 USD | |
How to use Seo Power Suite for building a successful SEO campaign?
The first step in the SEO PowerSuite software manual is to target targeted keywords.
1. Search target keywords:
Decide which keywords you want to build in your SEO campaign.
Step 1: Get keyword ideas
Use the Rank Tracker tool and follow the Wizard's instructions to create your first project.
Change the form of "Keyword Research" and choose any keyword research method to get hundreds of interesting keyword ideas using more than 20 keyword research tools here.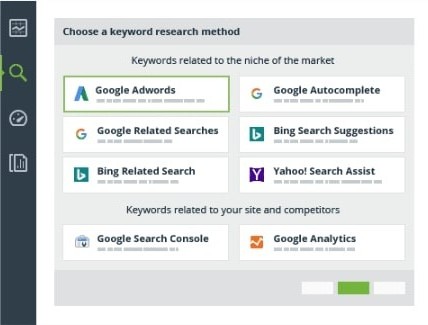 Step 2: Choose keywords that have the highest potential for profit.
See KEI (Keyword Efficiency Index) – The effectiveness index of keywords to choose keywords. (the higher the better)
With the green KEI index is often sought and has low competition. These keywords with green KEI will bring you more traffic and easier ranking.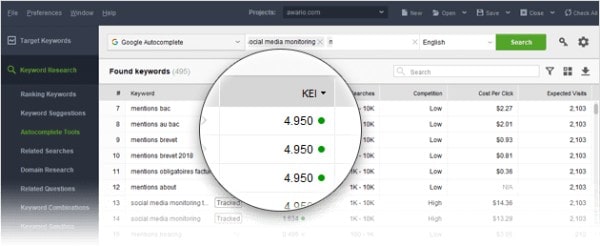 The next step in this guide to using SEO PowerSuite is to check keyword rankings.
2. Check website rankings:
Click on "check ranking" to check the rank of the current website.
Step 1: Select the search engine you are targeting and start checking.
Click  (check rankings) in the Rank Tracker tool and select the search engine you are targeting to check the website rankings for the selected keywords.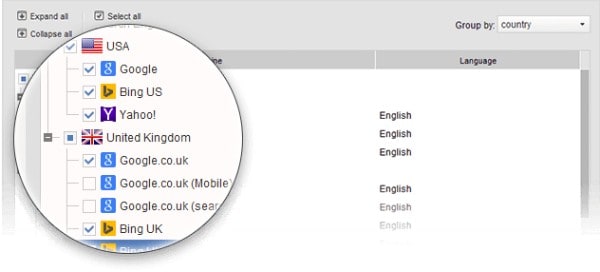 Step 2: Determine the keyword you need to target.
See the current rank of the keyword. Some of your keywords may already have high rankings. And maybe some keywords are not, you can focus more SEO for those keywords.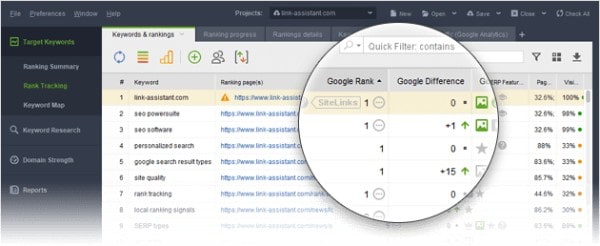 3. Find out some website problems and fix them.
Run the Audit website to find errors and return the website to its original rankings.
Step 1: Scan your website. Enter your website URL into SEO PowerSuite's WebSite Auditor tool to start analyzing.
Step 2: Discover some weaknesses of the website. Look carefully at the factors that cause errors and warnings to promptly solve them. Research the "Details" section to understand the error pages, from which you can find suggestions to fix them.
Make sure you fix the errors and resolve the warnings in a way that makes the website search engine friendly.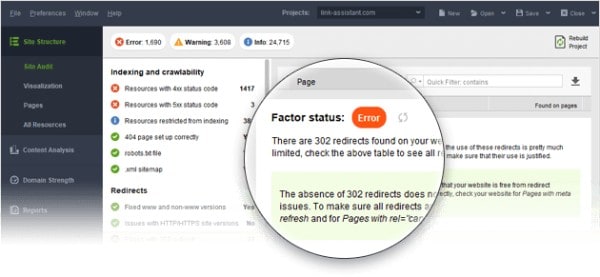 After finding the errors and fixing errors for the website, the next step in the guide to using SEO PowerSuite is to optimize Landing Page.
4. Optimizing your landing page:
Create content that is keyword rich and relevant by using the following optimization tips:
Step 1: Analyze your website.
Go to "Content Analysis" in the WebSite Auditor tool, select the website you want to optimize, and enter the keyword.
Let the software run web analytics quickly, then you can know the current optimal rate, detail the keyword usage, and another SEO status of the site.
Pay attention to any elements marked as Error – Warning or Warning – warning.
Switch to the "Competitors" tab for details of tips that top competitors are optimizing for page elements. And switch to the "Details" tab to get advice on what page to target, which keywords to optimize your page.

Step 2: Adjust the content of the site. Switch from "Content Analysis" to "Content Editor" to preview your existing landing page.
View the elements of the item on the left-hand side and change some of the content of the page shown on the right-hand side.
Follow the instructions available in step 1. The onpage status of the website and the optimal ratio on the left-hand side will be recalculated in real-time as you enter.
After editing the website and reaching the desired optimization score, click the "Save page" to save the new optimized HTML to your hard drive. Then, upload it to the website to see your rankings.
Check on visits or revenue, remember?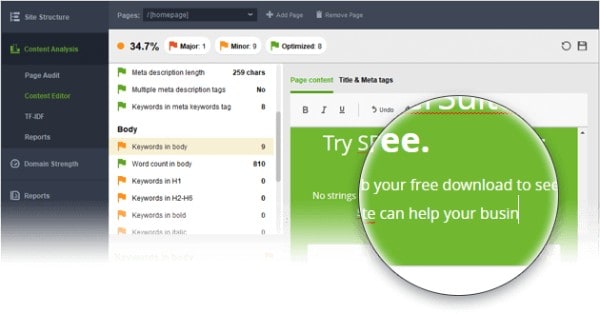 5. Remove harmful links
Check the list of backlinks and remove the links that reduce the ranking of your website.
Step 1: Review the backlink list. Enter the URL of your website into the tool "SEO SpyGlass" to get backlinks.
Click on the "Link Penalty Risks" tab> Select your backlink> click to see if these backlinks hurt the website or contribute to improving the website rankings.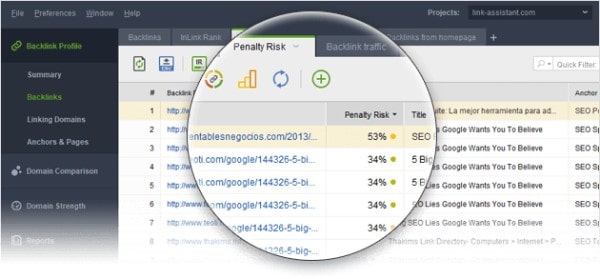 Look closely at links with " Penalty risk " above 40% and check those pages to see which links they need to remove.
Step 2 : Remove the bad link.
If possible, contact the webmasters of the spam links and ask them to remove the link.
If there are too many backlinks in the list, or if contacting webmasters is not effective, you can ask Google to disregard these links in the form of disavowing links. You simply tell Google you don't want those links pointing to your website.
To create a disavow file in the "SEO SpyGlass" tool, select the link you want to disavow, then right-click on it and select "Disavow backlinks".
Go to Preferences -> Disavow / Blacklist Backlinks to review your disavow list, then select Export to save this list to your computer.
Submit the newly created file to Google Disavow Tool and Voila. From there, Google will know which links are omitted when deciding the reputation of your website.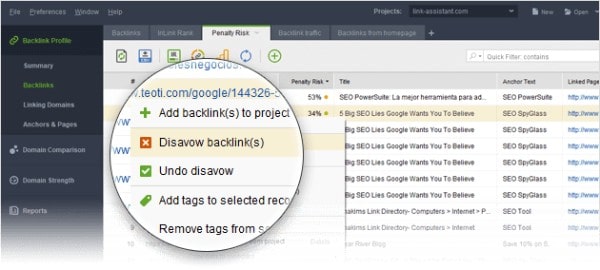 Not yet, there is one last step in the SEO PowerSuites. That is building quality links …
6. Build quality links
Expand the list of links with related backlinks, super quality.
Step 1: Find the links in the list of backlinks of the competitors.
Create a project in the "SEO SpyGlass" tool for top ranking competitors to track where their backlinks are coming from. In the opponent's project, select "Update backlinks" to analyze the quality of the backlink.
Pay attention to factors of Backlink's reputation, such as: InLink Rank, Domain InLink Rank, Domain Age, Link Value, … and identify the source of top quality links.
Choose File> Export to export a list of newly created links or copy them to a worksheet on Google Drive.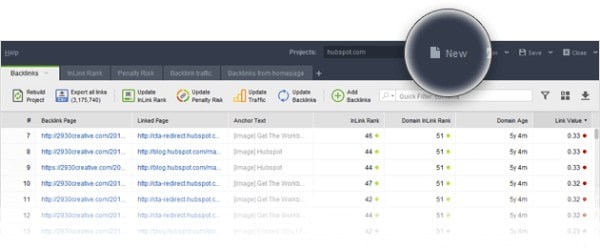 Run LinkAssistant and create a project for your website.
Choose File> Import to load see where the links you exported from "SEO SpyGlass" come from.
Step 2: Find more quality links.
In the LinkAssistant tool project, select "Look for Prospects" to find opportunities for related links using the latest LinkAssistant research methods.
Choose whatever method you want, feel free to repeat the search methods you need.
When you find potential links, LinkAssistant will automatically get your email address so you can interact with them right here in this app.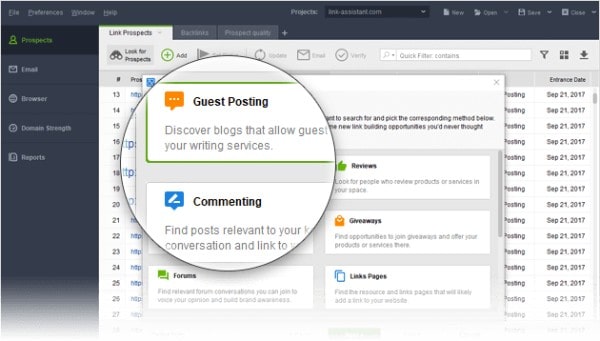 In the LinkAssistant project, click on the "Email" icon to contact potential partners and suggest if there is a chance to get the link. For example, guest posts (The article has been optimized SEO but posted in other websites/blogs), …
Take advantage of LinkAssistant's existing email template or create your own email templates and customize them.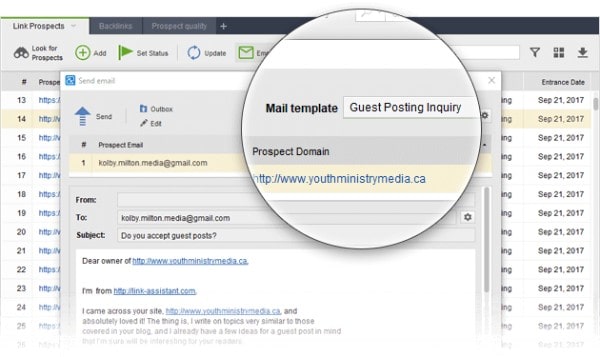 Hopefully, this article has provided useful information, helping you better understand what is the SEO PowerSuite software and How to use it that can help your SEO campaign.
Good luck to you!