When you start a new website, there are many issues to solve. One of the difficult choices is how to find the right VPS provider for your website. Most people who are just starting out have a tight budget so they don't have much choice. Shared hosting is ideal for a new website.
However, the risk of using a shared host is that even a small website will soon exceed its limit. Similarly, the shared host will not work well when used for an e-commerce store (e-commerce) because these are heavy websites and require high server configuration. In such cases, VPS (virtual private server) may be a good solution because it provides better security with features and advantages for higher prices.
What is VPS?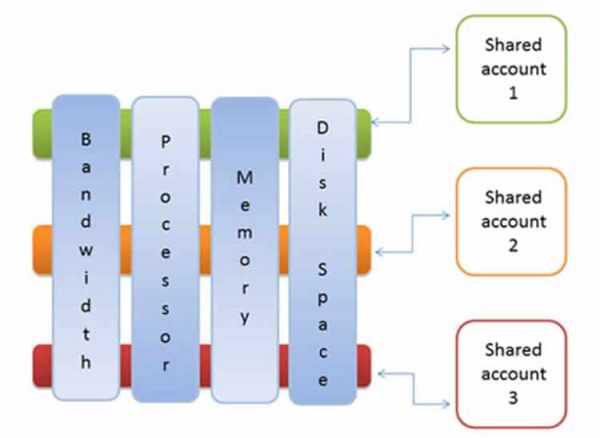 At VPS servers, each site is hosted on a well-configured virtual machine. A physical machine is divided into multiple virtual servers with separate settings with the ability to work independently. So while other sites can be hosted on the same physical server system, sites placed on different virtual servers will not affect each other.
Just like each of your websites will be placed in a private room with all the necessary resources. You get the same access as root access on dedicated servers. However, instead of taking control of a physical server you will be limited to your virtual server, sharing CPU, RAM, and bandwidth (baseband) with other virtual servers.
VPS server gives you total control of your server with the most benefits of a costly dedicated server. In this way, you can have a virtual dedicated server for many websites at a lower cost than a dedicated server and have a higher performance than a shared host.
VPS hosting
VPS hosting falls in the middle of shared and dedicated hosting. It is the combination of the advantages of both-cost savings like shared hosting and the independence of dedicated hosting. A VPS is much cheaper than dedicated hosting and allows you to use more resources than shared hosting.
Unlike shared hosting, your resources are not shared and your site is not affected by other users. When each virtual server exists in an independent environment, your site is independent of other hosting sites on the same physical machine. Therefore, you will enjoy the features of dedicated hosting at cheaper rates.
Shared hosting is similar to the fact that you live in an apartment where you cannot prevent others in the same building from using common facilities like elevators, swimming pools, fitness centers, etc. You use all the amenities that are with them and when someone uses too much, others will be affected directly or indirectly.
In shared hosting, each website is hosted on the same server and resources such as CPU, RAM, and hard drive will be shared. If a site receives too much traffic, the performance of others will be affected.
Dedicated hosting
Dedicated hosting is like having a separate, independent apartment and need not share with anyone.
You can use the entire server at your disposal and no other user can share your resources. However, this is the most expensive of the three types of hosting and you should only use it if your resources are in great demand compared to the resources that VPS provides.
When should you switch to using VPS?
With low traffic volume, using shared hosting with low cost is absolutely acceptable. However, when the number of traffic increases, the shared hosts will no longer be stable because at this time your website is requesting resources exceeding the limit of the shared host.
When your WordPress website has exceeded the maximum capacity of shared hosting, it is the appropriate time to switch to VPS. When overloaded, your website will often be down (users cannot connect) often. If this happens often, it means that your shared host can no longer afford this website. At this point, it is best to upgrade.
Sometimes you will receive a notification from the provider with the content that your site has used up the resources allowed in a month. If this happens, don't delay but switch to using VPS now. Sometimes at shared hosting, you may face the same problem when other websites on the same server have large traffic.
If you are hosting multiple photos, videos on your website, you will need a VPS to distribute your website's performance. In short, the site will work better when you switch to VPS, especially when your site has many visits.

How to choose a good VPS: Factors to note
When you have decided to choose VPS hosting, you should consider carefully the factors to find the most suitable VPS hosting provider for your website. Unlike shared host, VPS hosting requires attention to many more factors to really be useful for your use.
Here are some key factors you need to consider:
 1.Management or not
In shared hosting, you do not receive full access to the server, so server management issues are not displayed. However, when using VPS hosting, the entire virtual server is delivered to you. So, someone needs to manage and monitor the performance of that VPS. If this is done by your supplier, VPS is called managed VPS, whereas where VPS does not manage you need to be responsible for monitoring all servers.
Unmanaged hosting requires you to monitor performance and keep the server running well. If your server software is often discontinued or some security management issues, you are the only one who fixes VPS. Thus, if you are a true enthusiast, you know how to manage the server and are familiar with server administration and warranty, then you are a good candidate for Unmanaged hosting. On the other hand, you need to pay more to use managed hosting.
In addition, there are many options for Managed VPS given by the same provider. So you should keep this in mind when comparing with other VPS plans or providers before choosing a suitable VPS.
2.Linux or Windows
Another thing to keep in mind is to choose your OS or server operating system. Windows or Linux are the two most popular OS offerings. Linux is an open source software and therefore costs less than Windows. Linux hosting is as simple as user-friendly and supports a larger range of applications. That suggests it is a good choice (perhaps better) in most cases. However, there are still some applications that are not supported by Linux or better supported by Windows. So if you intend to install or use any, for example, ASP, ASP.NET, … you should choose to use the same Windows-based VPS.
3.Server configuration
Server configuration plays an important role in adjusting the speed and performance of your website. The processing power you will receive, how much RAM you will be assigned and the size of the drive you will be sharing, all the problems. In addition, you should also learn about the quality of your VPS physical machine created. It should be created by reputable or high-power brands, if it is a weak platform you cannot expect a strong structure.
4.Redundant resources and scalability
The backup resource here is that you have the resources to back up at the database and have the facilities to maintain the server and recover the data as needed. In data centers, there are always generators and UPS in case of power outages can interrupt the server and there is always a server and a backup IPS system so unfortunately there is a problem where the server can still work.
Customers' websites and websites will not be affected. Scalability, on the other hand, indicates the ability to deal with cases such as the unusually large amount of traffic on the server, the system is overloaded because too many resources are used, the scalability here is the server capability. Use backup resources to cope with unusual situations. The above two things are indispensable and necessary to ensure the stability of the service for customers to use
 5.Monthly bandwidth
Most VPS hosting providers will have a bandwidth limit on your server and can charge more if you use more bandwidth. When you choose VPS hosting to make sure you don't have to pay too much money for your bandwidth.
6.Customer support
No matter how powerful and stable VPS hosting is, sometimes problems can arise. In this situation, you need a support team to solve those problems. If the provider cannot afford to provide customer support 24/7, they simply don't deserve the amount you paid before. If you encounter serious problems with your site and the problem is not fixed in the long term, you may lose potential customers depending on your site type (such as a website sold Your item cannot be reached for a while and you will lose guests). Therefore, you should try to see if the customer support team is enthusiastic before making a choice of suppliers.
7.Price
Checking prices of different suppliers is very important in making your choices. Cost is almost always the number one factor for choosing to host. Often, managed servers and servers that use more resources will be more expensive. Depending on your needs, choose a reasonable plan when you need VPS hosting.
Epilogue:
VPS hosting becomes very necessary when your website thrives. You must be careful in choosing hosting that suits your needs. Of course, you cannot do this without knowing your website (how many resources are needed). So start trying to figure out how much resources you will need (RAM, hard drive, storage capacity, bandwidth, etc.) to make your website work.
I recommend that you use VPS service at Contabo.com. This is the place where VPS service providers have very low prices. For example, VPS S SSD service package only 4.99 Euro/month you will have until CPU 4 cores, 200GB SSD and 8 GB Ram. But Contabo is that they only have Datacenter in Europe. You can read all the information at Contabo Review.
I hope this article will help you choose the best VPS provider. Thanks for reading my article. Please share with friends if it is useful.