cPanel is the most popular Linux platform control for web accounts hosting. It helps you manage all web services in one place. Currently, cPanel is the industry standard and most web developers are familiar with it.
Easy to use and convenient, cPanel helps increase the power of managing web hosting accounts with optimal performance. Whether you want to create a new FTP account and email address or monitor resources, create a subdomain or install software that can be done with cPanel.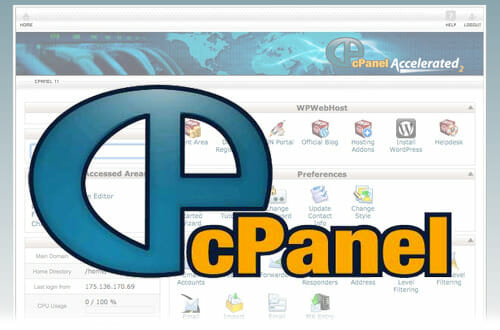 What is cPanel Hosting?
cPanel hosting is Linux web hosting that has pre-installed cPanel. cPanel has advantages and disadvantages, but in most cases, it works effectively. So cPanel is a good choice for everyone who is looking for a control panel solution for hosting. You can consult our review:
Advantages:
Easy to learn

Easy to use

Save your time and money

Has been thoroughly tested

There is an automatic installer

Many tutorials/articles online
Disadvantages :
There are many unnecessary features

Easy to accidentally change important parameters

Some hosts run the old cPanel version

It is more expensive because cPanel usually does not include free hosting packages
How to use cPanel
In this section, we will guide you to use cPanel for you, by going through each part of cPanel's interface. Each cPanel installation has different features, but the good news is that you can look around to get its items, and everything is arranged very easily. When you log in, you will often see your hosting's resource parameters (such as CPU usage, available disk space, memory usage). This information will help you pay attention to the overall performance of the website.
When you get used, look for other items. Take a look at the picture below, this is our cPanel and the typical cPanel module screen.
File Modules:

These modules allow you to directly upload and manage files from within cPanel without an FTP client account. You can install security, backup and more. The most commonly used modules are:
Backup

Backup Wizard

Directory Privacy

Disk Usage

File Manager

FTP Accounts

FTP Connections

Images

Web Disk
Preferences:

This is where you customize the look of cPanel to make it more convenient. The most commonly used modules are:
Change Language: change the language of cPanel

Change Main Domain: change the domain name

The Getting Started Wizard: the process when new

Manage Resources: Manage resources

Shortcuts

Update Contact Info: update personal information

Video Tutorials: video tutorials
Databases:

If your website has a content management system (CMS), it needs a database to store articles, settings and other information. This part is completely related to database management. The most commonly used modules are:
MySQL Database Wizard

MySQL Databases

phpMyAdmin

Remote MySQL
Web Applications:

This is where you usually need to install the necessary applications. It includes all applications from blogs to portals to CMS and forums. 
Domains:

Often, webmasters need to use a hosting to manage multiple sites or to install subdomains and redirects. This is the place for webmasters to manage those issues. The most common modules are:
Addon Domains

Aliases

DNS Manager

Preview Website

Redirects

Subdomains
Email:

Not all web hosting includes email, but if your hosting package has both email and cPanel then this part is for managing Email. The most commonly used modules are:
Address Importer

Mailing Lists

Autoresponders

Default Address

Email Wizard

Encryption

Forwarders

Global Email Filters

Spam Filters
Metrics:

If you are running a website and are interested in its access statistics. So you need to go to this Metrics area. This area is to give you all the statistical parameters that can help you evaluate whether the website works effectively. Common modules are:
Bandwidth

CPU and Concurrent Connection Usage

Errors

Raw Access

Visitors

Webalizer

Webalizer FTP
Security:

Security is a top priority for many webmasters, especially if your website contains sensitive information such as username, password and financial information. This module will help you manage security-related issues, making your website safer. The most commonly used modules are:
Hotlink Protection

IP Blocker

Leech Protection

SSH Access

SSL / TLS
Software:

This module mainly uses many PHP and Perl software, ordinary users do not need much of these features. The most commonly used modules are:
Optimize Website

Perl Modules

PHP PEAR Packages

Site Software

MultiPHP Manager
Advanced:

As the title, these parameters are for professional users. The most commonly used modules:
Apache Handlers

Cron Jobs

Error Pages

Indexes

MIME Types

Track DNS

Terminal
So, what is cPanel?
cPanel is a control panel of the most popular Linux web hosting platform in the world. It is a web hosting management software, you can look up parameters such as server configuration, website performance. You can also customize website settings through modules such as Files, Preferences, Databases, Web Applications, Domains, Metrics, Security, Software, Advanced, and Email