YouTube Premium is a must-have these days when you watch YouTube on your TV, PC, tablet, or even your smartphone. However, there is a registration fee to be paid and, most importantly, registration fees vary from country to country. A simple example is that although the subscription in the US costs $11.99, you can get the same benefits for only 29.99 Turkish Lira (equivalent to $1.15). , which is a huge difference, and you can save up to $10 per month if you live in the US and register in Turkey.
However, you can only use YouTube Premium in your country of residence. So how to subscribe to YouTube Premium from anywhere at the cheapest price? This problem can be easily solved by using VPN software such as NordVPN. This makes it easy and cheap for people around the world to subscribe to YouTube Premium even if they don't live in that country.
A VPN not only changes your digital location (IP address) but also unlocks restricted content and increases your security. Read on to learn more about how to use a VPN to get YouTube premium deals in 2023.
How to buy cheap YouTube Premium with a VPN?
Sign up for a VPN. We

Recommend

NordVPN, Get 72% Off NordVPN now!
Download

and

install

the

app on

your

device. Connect to a

server

in

Turkey

or Argentina,

where

YouTube

Premium

prices

are

extremely

low.
Go to YouTube

Premium

and

create

an account.
Enjoy Youtube without Ads.
CLICK TO GET NORDVPN COUPONGet 66% off with NordVPN coupon
How a VPN can help you buy Youtube Premium cheaper?
YouTube Premium is currently only available in about 100 countries, leaving almost half of the world inaccessible! If you are not in an approved location, you will always be stuck with ads.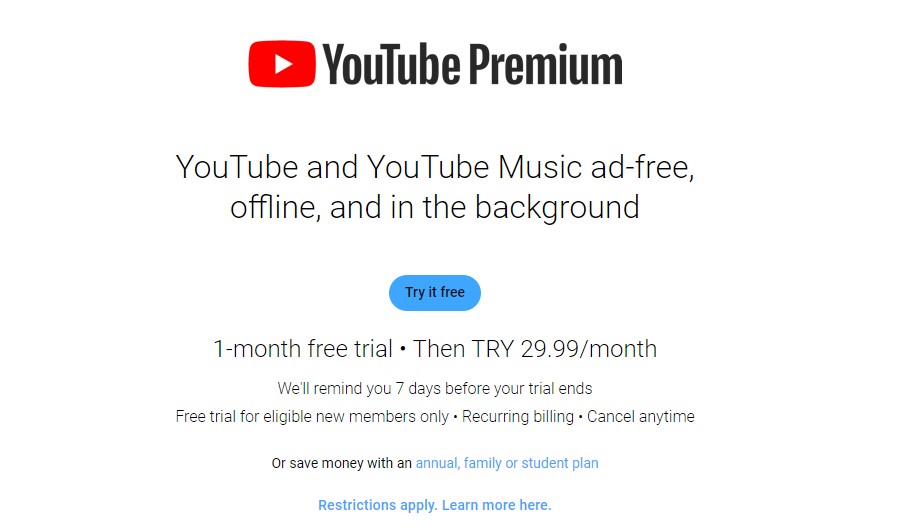 The price of Youtube Premium in Turkey is TRY 29.99 ~ $1.15
YouTube Premium prices vary by country. For example, a subscription in the US costs $11.99, but a similar plan in Turkey, Argentina, or India costs just over $1 per month.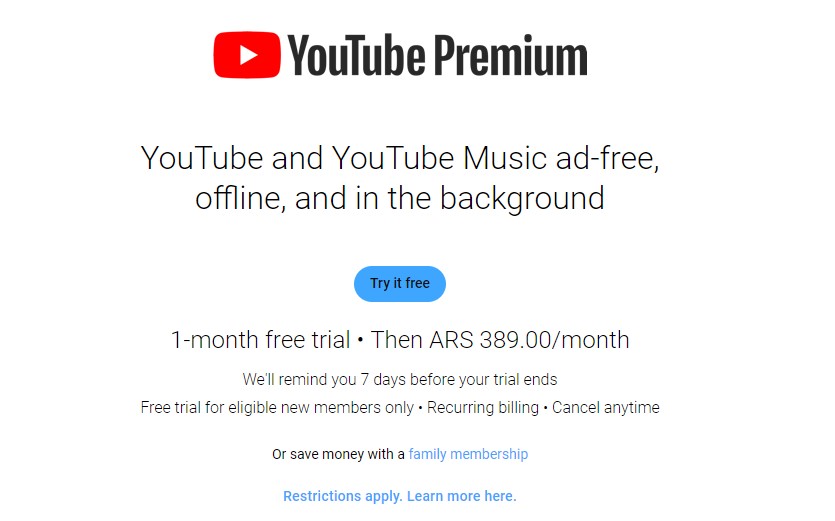 The price of YTB Premium in Argentina is ARS 389/month ~ $1.50/month
By using a premium VPN like NordVPN, you can easily subscribe to YouTube Premium at the cheapest price. A VPN can change your IP address to a convenient location to subscribe to YouTube Premium at the cheapest price. So if you create a YouTube Premium account, the site will detect your fake location and offer you a cheaper plan!
Be careful not to try this with a free VPN, or you'll get caught by YouTube's complex geo-blocking in no time.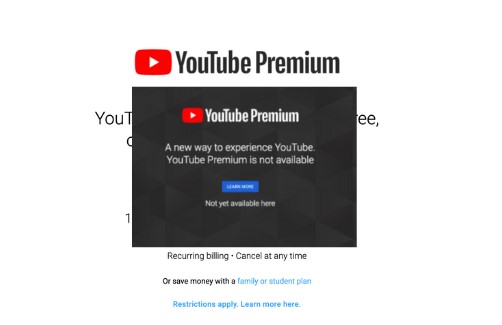 In fact, free VPNs are easy to spot because their free servers are not secure enough. Only a premium provider has the servers, speed, and security required for the task. So choose wisely to get the best subscription deals.
Sound complicated and too much work? But don't worry, we've done a lot of testing of different VPN types and compiled the most comprehensive list of VPNs to help you get the cheapest YouTube Premium subscription.
Best VPNs for cheap YouTube Premium subscription
NordVPN – Best VPN for YouTube Premium
IPVanish – Powerful YouTube VPN with Reliable Connections
CyberGhost VPN– Ideal VPN for Multiple Users with YouTube Premium
How do we test the best VPN with Youtube Premium?
When choosing a VPN provider to sign up for and use, we considered some key features that are important to YouTube Premium:
International Servers: You need a VPN with a large server pool to unblock YouTube Premium and access the cheapest subscriptions. NordVPN has over 5800 international servers.
Fast connection: YouTube Premium is a streaming service, and there's no point in removing ads if you're still experiencing video caching issues. A VPN with good connection speeds will ensure the best viewing experience.
Bypass geo-blocking with ease: YouTube Premium and other streaming platforms use geo-blocking technology to detect unauthorized visitors. Only top VPNs can bypass geo-restrictions.
Highly secure and reliable: Choose a VPN with advanced security features like end-to-end encryption, so you don't have to worry about hackers or cybercriminals.
All devices supported: YouTube Premium works on all your favorite devices, so you need a VPN that supports multiple apps. Providers like NordVPN offer great apps for SmartTV, Android boxes,  AppleTV PC, Laptops, Table, Smartphones, and more.
How to buy YouTube Premium Cheaper in Türkiye
Türkiye has one of the cheapest YouTube Premium subscription plans in the world. Residents of Türkiye can sign up for this service for only $1.15 per month! No need to be jealous when you are in another country because there is a way to make it look like you are in Turkey, even if you are thousands of kilometers away.
Let's take a closer look at the steps required to establish a connection:
Choose a VPN with servers located in Türkiye. We highly recommend NordVPN.
Download the VPN to your device and create your account.
Connect to a server in Türkiye.
Create a brand new Google Account, even if you already have one. This way, Google does not store any previous account data.
Add your credit card details using a card that you haven't used Google services before. If that doesn't work, you can try a different payment method, such as a gift card or virtual credit card.
Enter a location in Turkey as the billing address, and be sure to add a real address with the correct city and zip code (we recommend using Google Maps to find random addresses).
Now you can sign up for YouTube Premium at a discounted price in Türkiye!
CLICK TO GET NORDVPN COUPONGet 66% off with NordVPN coupon
List of cheapest YouTube Premium subscription costs by country
YouTube Premium subscription costs depend on your country of residence. The prices are very affordable (in countries like Türkiye and Argentina). Here's how to compare prices in the cheapest countries for YouTube Premium subscriptions in detail.
| | | |
| --- | --- | --- |
| Country | Local currency | Monthly Subscription in USD |
| Turkey | 29.99 TRY | $1.19 |
| Argentina | 389 ARS | $1.54 |
| India | 129.00 INR | $1.57 |
| Philippines | 159 PHP | $2.86 |
| South Africa | 71.99 ZAR | $3.84 |
| Brazil | 20.90 BRL | $4.37 |
| Romania | 26.00 RON | $5.72 |
| Sweden | 69.00 SEK | $6.46 |
| Belgium, Netherlands | 6.99 EUR | $7.64 |
| Czech Republic | 179.00 CZK | $8.25 |
| Hong Kong | 68.00 HKD | $8.68 |
| Singapore | 11.98 SGD | $8.87 |
YouTube Premium Family plan subscription costs by country
Since costs vary around the world, you never know which country will give you the best YouTube family plan at the best price. With the YouTube Premium family plan, you can add up to 5 more users to use.
Here's a YouTube Premium Family price comparison by country so you can see where it's cheapest:
| | | |
| --- | --- | --- |
| Country | Local currency | Monthly Subscription in USD |
| Turkey | 59.99 TRY | $2.31 |
| Argentina | 699 ARS | $2.7 |
| India | 189.00 INR | $2.3 |
| Philippines | 239 PHP | $4.33 |
***YouTube Premium Family subscription: prices by country. Last update: July 5, 2023.
YouTube Premium VPN not working even though you use a VPN?
If your VPN isn't working properly and you can't access YouTube Premium, this checklist of FAQs can help you identify the problem:
Browser cookies reveal your real location
Your VPN Can't Get Around Geo-Blocking
The server you selected has been blocked by YouTube Premium
Your GPS location does not match your fake IP address
Saving money is always a good thing, especially with expensive services like YouTube Premium. In addition to YouTube, you can use a VPN to save money on other subscriptions, hotel bookings, airline tickets, video games, and more.
A VPN has many other advantages: it increases your online security and privacy, and prevents your personal data from leaking and the loss of many other important information.