When it comes to website hosting, VPS hosting is a common step from shared hosting packages. Because it will come sometime, your website grows to the level of the shared host package is no longer suitable, when you need more resources. Therefore, you need to consider choosing the right time to upgrade to VPS hosting so that your service always works well.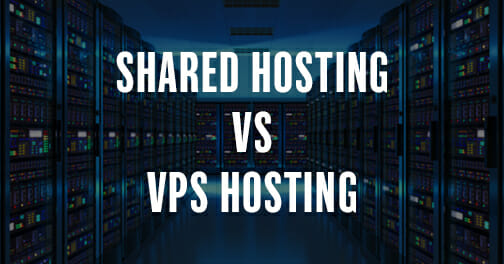 In order for the website to work, it needs a server that everyone can access. The server can be a computer or a computer system, with specialized software installed (and even specialized hardware).
When people talk about shared hosting, they refer to the type of server hosting multiple websites at the same time. This method helps suppliers can provide the website with cheap cost, so often you will find shared hosting packages are much cheaper than other hosting types. However, there are some limitations to this hosting type.
To better understand, try visualizing your website like computer software. To operate, it needs resources, such as RAM and CPU power. The more people use the software at the same time, the more resources it needs to operate.
However, any computer (or server) has only limited resources. It means that with shared hosting, you can fall into a bottleneck that can slow down the website. In fact, this is the case when:
Your hosting provider has too many websites on the same server.
Your website has too much traffic.
If you choose a reputable hosting provider, you won't have to worry about the first case. However, when your website grows strongly, the issue of ensuring performance will be inevitable, especially when you have chosen the strongest shared hosting package.
To continue upgrading, the next hosting package you need to consider is VPS hosting. The term virtual private server (VPS) must be quite confusing, but it means very directly. VPS still uses the same physical server infrastructure with other users, but each user is granted a virtual area in the server, with its own resources.
Here are some different factors between VPS and common shared hosting:
VPSs have high privacy. Even if you share the same physical infrastructure, each VPS has its own environment and does not overlap.
You do not share resources. Each VPS is granted a certain number of resources, so you will not fall into a bottleneck if there is a large amount of traffic to other VPS.
VPSs are easy to expand. Depending on your provider, usually, you can easily upgrade VPS resources whenever you need (for example, more RAM, CPU, …)
You have complete control over the server. With VPS, you can customize the server configuration, do it yourself or ask the hosting provider for help.
As mentioned above, the first consideration factor you need to consider is VPS performance. When your website has a lot of traffic to shared hosting package is not enough, it is also time to upgrade to VPS package.
Since each provider is different, it is difficult to tell if you have used up all the package resources you are using. However, if your website achieves some (or all) of the following factors, you should consider conducting a conversion:
You get hits at least 100-200 times per day.
There is a sharp increase in your bounce rate.
Your page load time keeps increasing, and you start to see downtime.
If you have shared hosting package well, it can withstand thousands of hits per month. And there are many other factors affecting your website's performance, in addition to the hosting package you are using.
Therefore, we also recommend that you proactively speed up the website, so that it works as quickly as possible. If your website receives a lot of traffic and you are still trying to optimize it but still fail, then it's time to upgrade to VPS hosting package.
If you have any questions about how to upgrade to VPS hosting? Leave your message right below!