CentOS Web Panel (CWP)is a free control panel, fully functional as a licensed control, helping you to manage VPS/Dedicated server without SSH login, it has a very simple user interface. CWP makes it possible to manage everything on the server without having to type complicated commands. CWP is also easy to use, after installing CWP, you can run WordPress well as shared hosting.
The free support features are also quite good, in addition, CWP supports paid licenses to support and some useful features rarely when buying a license.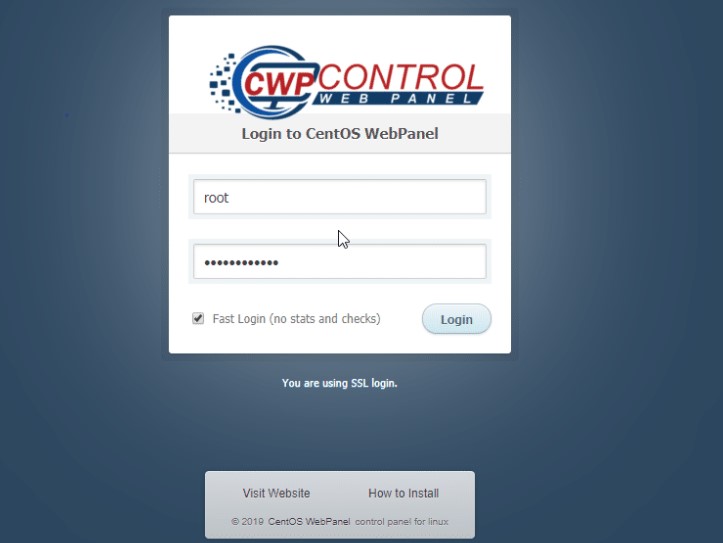 For more information, you can visit: http://centos-webpanel.com/support-services
The main functions of CWP:
Apache Web Server (Mod Security + OWASP)
PHP 5.x ⇒ 7x (suPHP, SuExec, PHP, PHP version)
MySQL (MariaDB) + phpMyAdmin
Postfix + Dovecot + RoundCube webmail (Antivirus, Spamassassin)
CSF Firewall (default is off)
File System Lock (locks important system files)
Backups ⇒ note when creating a user.
AutoFixer to be able to fix server config errors
Varnish Cache server => configure the cache to improve website access speed
Compiles Apache from source done through the interface
Apache reCompiler + Additional ⇒ also implements the interface to add extensions.
Apache server-status Advanced settings of web service config files through the interface
Edit apache vhosts, vhosts templates support editing through the interface
Rebuild all apache Virtual done via the user interface
Mod Security + OWASP rules Install Firewall via interface
Tomcat 8 server management
Fight DoS with Slow-Loris attacks
Compiles PHP from source perform compilations via interface
Change PHP versions easily: include 5x ⇒ 7x
There is a PHP editor that increase the number of PHP information through the interface
Install more PHP addons ⇒ WordPress, Prestashop, Joomla, Drupal,…
Edit PHP.ini & PHP info & List modules edit via interface without ssh
Customize php.ini edit for each user via the interface
postfix & dovecot
MailBoxes, Alias
Roundcube webmail
Postfix Mail
rDNS Checker
AntiSPAM
Re-Build Postfix/Dovecot mail server
Email Auto-Responder
Manage MySQL Database
Add local or remote access user
Show real-time Monitor MySQL, Bandwidth, process real-time operation
Hardware requirements
For centOS 32bit minimum, 512MB RAM required
For CentOS 64bit minimum of 1024MB RAM is required (Recommended to use this configuration or higher)
Disk space (free hard drive) at least 10GB
If you want to install the full features of CWP, especially the virus scanning feature for mail, you should have a RAM capacity of 4GB or more for the system to work best.
Install CentOS Web Panel on CentOS 7
Before installing you need to update the system with the following command
yum update -y
Next
cd /usr/local/src
wget http://centos-webpanel.com/cwp-el7-latest
sh cwp-el7-latest
The system will start the installation process and it will take some minutes to complete, after completing you access the following information.
You can access the CentOS Web Panel with the following information:
SSL: https://yourip:2031
Without SSL http://yourip:2030
User: root
Pass: pass root VPS
MySQL root Password: xxxxxxxx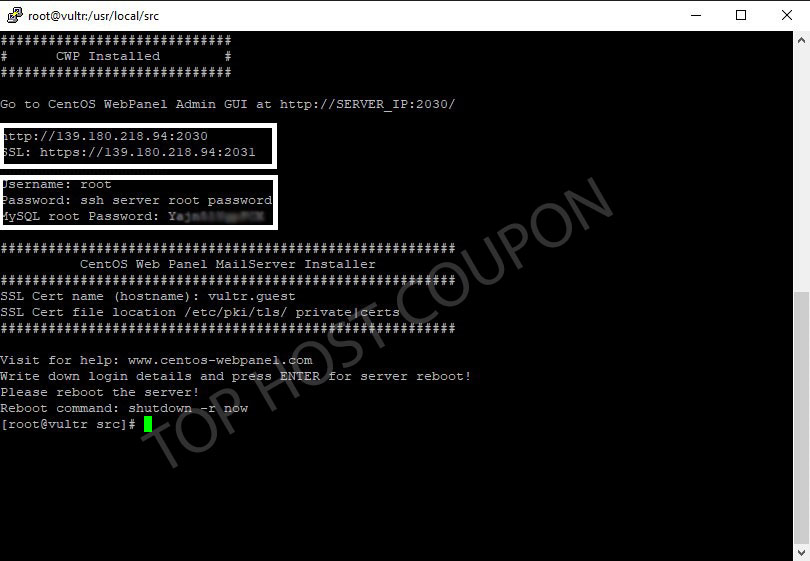 Congratulations on successfully installing CentOS Web Panel to make administering your VPS easier with a more intuitive command-line user interface.
To start using CentOS Web Panel, create an account, add a domain to create a website easily.